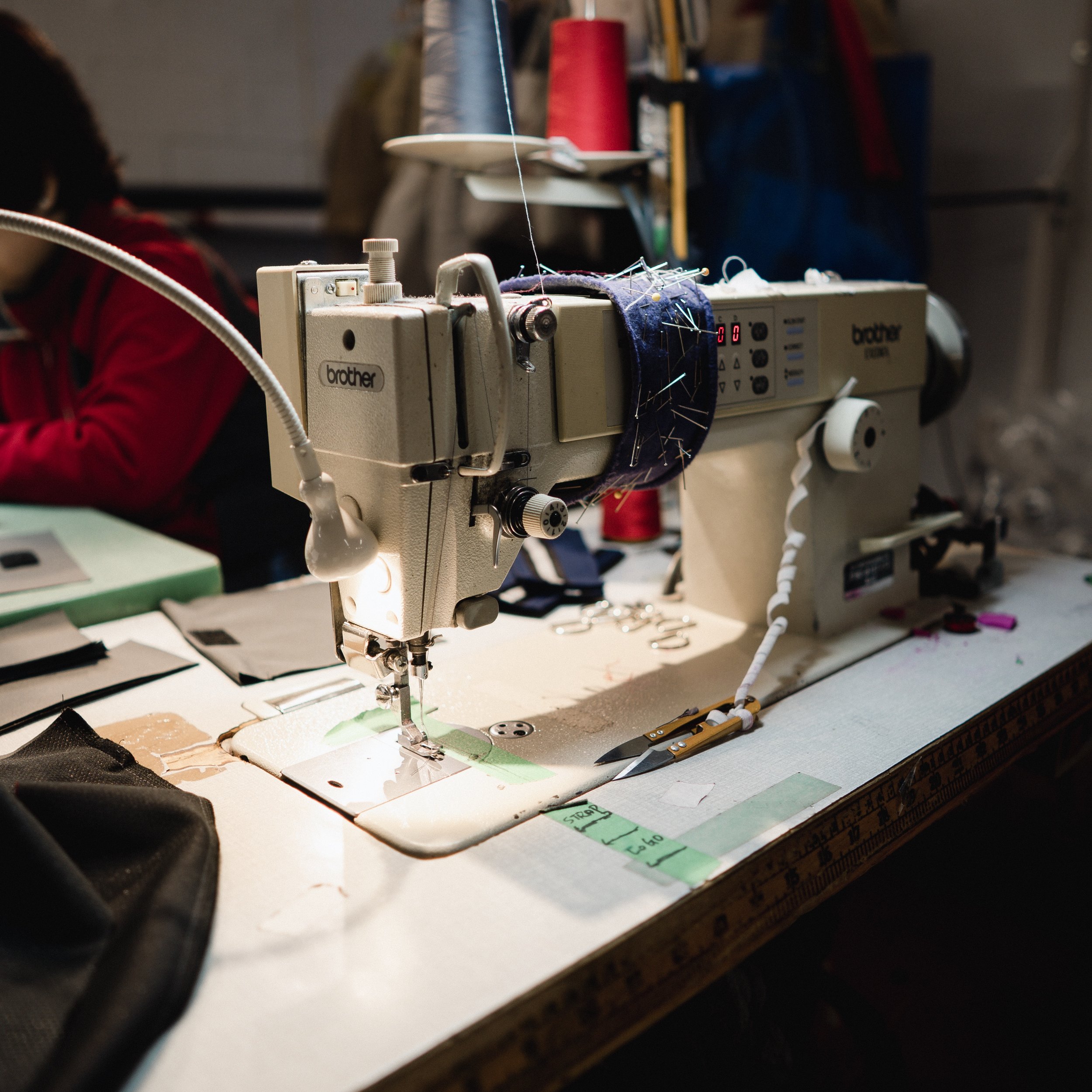 INDUSTRIAL SEWING
During this 8 week advanced industrial sewing course, students learn advanced sewing techniques on an industrial sewing machines and serge machines through practical hands on sewing of sample kits and actual garments.
During this 8 week course, Students will learn:
The ins & outs of industrial sewing machines and tools needed to set-up your shop.

How to control the speed

How tension & timing work on an industrial machine

How to handle fabric

How to sew leather & heavy-weight fabrics on industrial machines

Develop the skills needed to make samples and improve your production speed in order to work with production houses or contract stitcher
Three projects will be worked on throughout the course. These projects include:

sample book

sweatshirt

pants or skirt
Length: 8 weeks
Schedule: Classes run once per week, same day and time, for the duration of the course
Class Capacity: 4 students
This course is an ideal entry level course for those looking to learn to sew and work as a professional sewer.
The instructor will work with each student based on personal skill level and preferred pace.
All muslin included for all projects. Sewing kits and fabrics are not included but can be purchased at The Cut Fashion Design Academy for wholesale prices. See pricing details on our FAQ page.
If there is 2 or less students registered for the class, the class will be considered a private class. Students will complete all assignments as listed, in a 6 week period instead of 8 weeks.
Please arrive to class on time. If you will be away for class, please inform us at op@the-cuttingroom.com. Any cancellation or absences that are not notified within 24 hours of your class will be considered a missed session, no make up class will be provided. Students are allowed to request one make up class per session, as long as it is taken within the time frame of their course, and if there is a spot available during another class.
This program does not require approval by the registrar of the Private Training Institutions Branch (PTIB) of the Ministry of Advanced Education, Skills & Training. As such, the registrar did not review this program.
Quyem Lam has sewn professionally for over 40 years. She has worked for some of the leading labels in North America including Umbro, Intrawest, Nicole Bridger, Sitka and more. Quyem can teach anyone to sew. Plus, she's a lot of fun! Learn invaluable tips and tricks, how to sew like a professional as well as how to read patterns from the best sewer around.